06/24/2015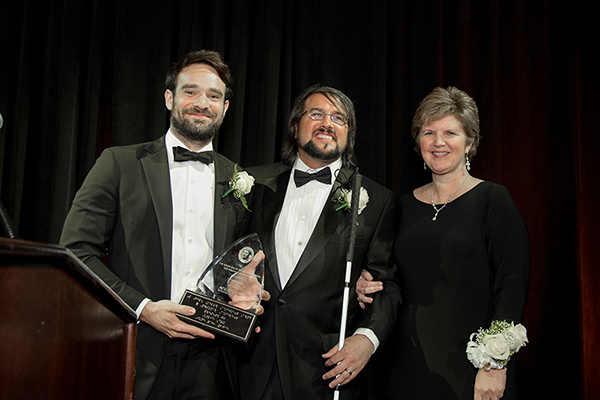 I've made it back to West Virginia after all of the excitement and fun at the American Foundation for the Blind's Helen Keller Achievement Awards. I had the honor to attend last year, when Christine Ha won a Helen Keller Achievement Award; she's a connection of mine and an inspiration, so that was a real blessing. This year took it to a whole different level, though, as I was able to assist our AFB Board Trustee, Cathy Burns, in presenting Charlie Cox with his Helen Keller Achievement Award. Actor Charlie Cox won the award for his work in accurately portraying the blind character Matt Murdock in the Netflix series Marvel's Daredevil. As I stated when introducing him, this opportunity meant the world to me. I am a believer in Charlie Cox and the work he put in to portray this character who is blind and a superhero. His portrayal was masterful, and it was exciting and moving to assist in presenting him with the Helen Keller Achievement Award on Thursday night at the J.W. Marriott Essex House. Congratulations to Charlie!
Seeing the whole gamut of winners meant a lot to me. Apple Inc. was another Helen Keller Achievement Award recipient for its commitment to accessibility in its products. Apple has set the standard for accessibility in mainstream technology. In fact, I used my Apple iPhone for notes when presenting Charlie Cox with his award, and at home, I use my AppleTV to access Netflix and so many other streaming entertainment and news options. My mother, who is also blind, keeps telling me that the iPhone with Voiceover has changed her life, and I would agree with that. Congratulations to Apple!
Vanda Pharmaceuticals won a Helen Keller Achievement Award for their work to address a condition called Non-24 Sleep Disorder, as this impacts the lives and employment of so many people who are blind or visually impaired. Because those who are blind can't see sunlight to regulate their circadian rhythms, their sleep cycles can be disrupted. I can name tons of people who have battled with this disorder, so I'm especially glad that Vanda researched and created an effective treatment for this condition. Congratulations to Vanda!
Ward Marston was the final honoree at the 2015 Helen Keller Achievement Awards. Ward is a Grammy Award-winning musician and sound engineer who has worked to preserve our musical history. In addition, he has performed at all of the Helen Keller Achievement Awards, dating back to 1994. He regaled the audience with stories of the impact of AFB, Apple's Voiceover, and past Helen Keller Achievement Award winners, such as Stevie Wonder, Ray Charles, and so many more. Congratulations to Ward!
Besides the fabulous winners, the networking at the event was top-notch. I enjoyed my time speaking with Comcast's Vice President of Accessibility, Tom Wlodkowski, about his company's accessible X1 cable box and apps. I enjoyed meeting various employees from JPMorgan Chase & Co. and discussing their employment initiatives around disability. I met the engineers from Apple who brought Voiceover to my AppleTV. I had time to catch up with Charlie Cox about work and life. And best of all, my wife, Jennifer Strechay, got to experience it all with me.
The event was a success, and this is due to the sponsors, attendees, planning committees, and especially to the winners who pushed to make a difference for people who are blind or visually impaired at the highest levels. Thank you and congratulations again to Apple, Charlie Cox, Vanda Pharmaceuticals, and Ward Marsten!