01/14/2015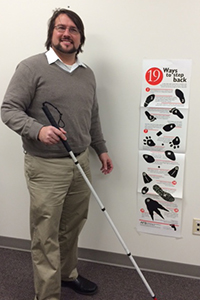 A friend of mine sent me a link to an episode of NPR's "This American Life" on Dan Kish. I had not heard it yet, though I do listen to that show often. I listened to the piece right away, and I thought I would share my take on the piece.
First of all, Dan Kish is an extremely successful and brilliant individual who is blind. He has trained youth and adults who are blind or visually impaired on how to travel independently for a long time. He founded World Access for the Blind, and trains individuals in the skill of echolocation, orientation and mobility, and independence.
I should preface this by noting that I reached out to Dan Kish when I was finishing up my graduate work at Florida State University and preparing for my orientation and mobility internship. A professor suggested that I reach out to him for tips. I did, and he provided me with some useful advice about being an orientation and mobility instructor who is blind or visually impaired. I have also seen him speak in person and met him in years past. I'm sure he wouldn't remember our interactions, though.
As I listened to the piece about Dan Kish, they discussed being able to see without eyes. I think Dan is extremely skilled and impressive, but the episode left a lot to be desired for myself and others. They showed Dan Kish's abilities on a bicycle and alluded to his ability to travel through the woods in a very familiar area. Being a successful person who is blind in the general public has nothing to do with these activities. These activities may build someone's confidence and self-esteem, and I believe in the use of some echolocation techniques with the combined use of a white cane, but this is not typical or even necessarily desirable.
Joe's Issues with the "Batman" Episode on "This American Life"
The show explained a point in time where Dan Kish bullied another child during his adolescence, and even had the individual interviewed, but there was no apologetic feeling, nor statement that bullying is a bad thing. The show even compared his training techniques to bullying. This all seemed irresponsible to me.
The show provided an interview with one supervisor from one state vocational rehabilitation agency to generalize about all of the services for the individuals who are blind or visually impaired.
The overall message about stepping back and allowing children to experience things is a message that I learned in graduate school at Florida State University under Dr. Sandra Lewis. Did all professionals have this training and follow it once in the field? No, but there are a good portion of professionals who do live by this. This is not only a mantra embraced by the National Federation of the Blind (NFB), American Council of the Blind (ACB), American Foundation for the Blind (AFB), and many other organizations, but one shared by many well-trained professionals around the United States. I praise NFB, ACB, and AFB for continuing to preach this message.
As a person who is blind or visually impaired and a professional in the field, I take issue with some of the misconceptions the episode will create or reinforce about individuals who are blind or visually impaired.
Positives and Other Thoughts About the Story
The episode preached high expectations for children who are blind or visually impaired, which is great. People need to know that out in the world, so preach on, Dan Kish!
I learned a lot about brain activity, vision, and echolocation.
Dan Kish is an impressive and inspiring individual.
The story reinforced that I have a lot to do in my own work.
The reporter noticed that she was treating Dan Kish's riding a bicycle like a big deal, and it really isn't a big deal. I think the public is often impressed when people who are blind or visually impaired do typical, everyday things. People are amazed when I mow the lawn or do general tasks. The public doesn't get to see these activities done by someone who is blind or visually impaired often.
I loved the message about letting children explore, and making sure not to jump in before the learning happens. Otherwise, we will be teaching the children something negative. We all get hurt—my head has taken a beating over the years (with vision and without).
Echolocation should be another tool in our toolbox as people who are blind or visually impaired. We need all of the tools we can get.
Well, I am willing to pull away the curtain—you all can come to my house and watch me take out the garbage, wash dishes, clean the bathroom, trim our trees, fix our awning, and shovel the sidewalk. Look out "Little Couple, Big World," here comes "Joe and Jen Take on the World."
Take the time to listen to the piece and form your own opinion. Overall, I really liked the piece a lot. It may not seem like it, but the story highlighted topics that are not often addressed by the media. As I was taught in graduate school, "take a step back" before you step in to help, or you might be hurting the future of that child. People are often too quick to step in and help youth who are blind, but how else are they supposed to learn these valuable lessons? Thank you to NPR, "This American Life," and Dan Kish for highlighting these topics in the "Batman" episode of "This American Life."
Here are some related links to explore: