08/24/2016
This blog post is by guest blogger Ben Caro, a film editor, screenwriter, and director on a mission to change the perception of blindness in our society. Ben is directing Cathedrals, a short film starring an actor who is visually impaired. Read about his passion project and mission to advocate for employment opportunities for individuals with vision loss.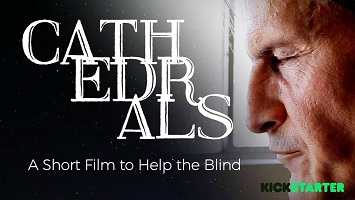 Cathedrals by Ben Caro
I had to look in strange places for the right actor to play the lead role in my passion film, an adaptation of Raymond Carver's short story "Cathedral." We called "dining in the dark" restaurants and e-mailed agencies that only represent the disabled. Usually, hundreds of actors flock to a project in droves. However, this project was different: I was looking for an actor who is blind.
I called Greg Shane, the creative director at Theater By the Blind, an organization that empowers individuals who are visually impaired through performance. I asked him if any of his stage actors were interested in auditioning for the film. He had one question for me: "Will you pay them?"
He told me most of his actors were living below the poverty line and could really use the money. I was astounded by this, and when I got off the phone, I did the research myself. It's not conclusive, but some data suggests that about 70 percent of people who are blind or visually impaired are unemployed and almost a third live in poverty.
Obviously, it's not because people who are blind are unqualified. Greg said he was part of a braille institute program that used theater to help train people with visual impairment to get jobs. "It was incredibly difficult. People would discount these individuals before they even walked into the interview." Many people are still bewildered by the thought of a blind person using a computer. I started to realize that it's not that the blind are unqualified to work; it's that most workplaces are unqualified to hire.
Actors who are blind have it hard in other ways. Greg told me, "I worked with an actor who was up for a lead role for a feature film and she was totally blind, and the producer decided that they wanted to go with a sighted character because they thought it was more commercial."
It's rare that people who are blind play themselves. Abigail Breslin was blind in The Miracle Worker, Al Pacino in Scent of a Woman, and Val Kilmer in At First Sight. Obviously, films need stars, but by not hiring qualified individuals with disabilities, we keep opportunities from the people who really need it, the people the films purport to honor. Because actors are usually applauded for their performances, the practice even has its own name: "cripping up."
However, for someone who is blind, or in the process of becoming blind, it's important to see the visually impaired at work. Dreams, such as performing on stage or in film, are achievable, even without sight. Also, those who aren't exposed to individuals with low vision can become sympathetic toward their needs. This has occurred with Modern Family, where the show's portrayal of a gay couple coincided with America's shifting positivity toward marriage equality.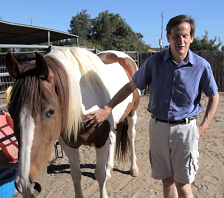 Rick Boggs with his horse
With my film Cathedrals, I want to help. We've cast Rick Boggs, blind since age 5, to play the lead role. We're also pushing for opportunities in the workforce. By partnering with the Hearts for Sight Foundation, an organization that increases employment through educating employers, I'm hoping to not only make a good film but to make some good too. I'm really excited!
For more information or to help with Ben's project, visit his website.
More on Employment in the Entertainment Industry
About Jobs in Pop Culture, Art & Entertainment and Artisans Who Are Blind or Visually Impaired
The Impact of the Popular Media on Public Perception of People with Disabilities