06/12/2018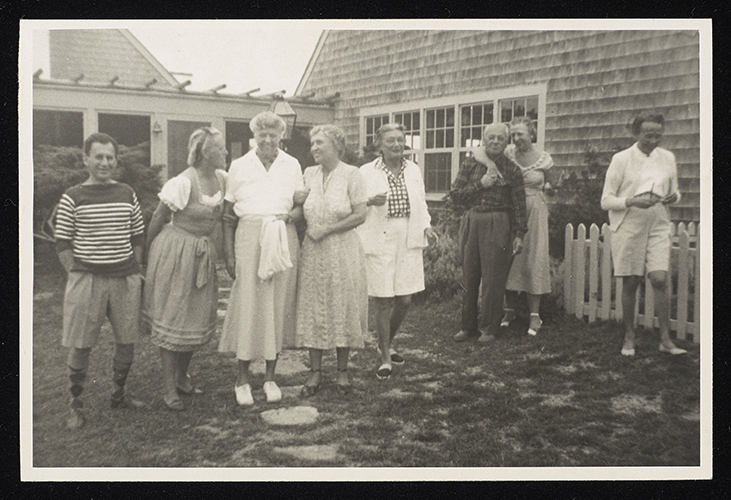 Seen left to right are Joseph Lash, Trude Wenzel Lash, Eleanor Roosevelt, Helen Keller, Katharine Cornell, David Levy, Polly Thomson, and Adele Levy, 1954.
On a late summer's day in 1954 a group of friends gathered in Martha's Vineyard for tea and conversation. The setting was Chip Chop, a sprawling compound owned by the married actors Katharine Cornell (known to friends as Kit) and Guthrie McClintic, and a few photos were taken to mark the occasion. The image above is one of them.
The man on the far left is author Joseph Lash; to his right, in order, stand his wife, Trude Wenzel Lash, Eleanor Roosevelt, Helen Keller, Katharine Cornell, David Levy, Polly Thomson, and Adele Levy. A little more than two decades after this photo was taken, Lash would undertake a biography of Keller (Helen and Teacher) using the AFB Helen Keller Archive. In it, he describes how this photo came to be:
Helen took time off to visit Kit at Martha's Vineyard. Mrs. Roosevelt was visiting friends, and Kit Cornell invited everyone for tea. Helen eagerly explored Eleanor Roosevelt's face with her fingers and read her lips. 'I wish we might all have been together longer,' Helen wrote her 'dearest of Katharines' afterward, 'and nothing could have meant more to me than a real talk with Mrs. Roosevelt. . . .' Nancy sent Nella prints of snapshots she made.
A web of professional and personal connections linked the figures in the photo, with Roosevelt and Keller at the hub of a wheel whose spokes included progressive politics, the arts, and child welfare. Eleanor first knew Keller during her husband's presidential years, when Keller publicly supported Roosevelt and met with the president and his wife several times. Both were celebrated women who traveled extensively and took an active role in politics and civic affairs, known privately (Keller) and publicly (Roosevelt) for their commitment to human rights, women's rights, and international cooperation in an era when anti-communism had put such positions under siege.
In 1939 Eleanor befriended Joseph Lash, then the leader of the radical student activist organization the American Student Union who had just testified as a hostile witness before the House Un-American Activities Committee, and they remained close. Summer residents since 1945 (and possibly the friends that Roosevelt was visiting on Martha's Vineyard), it was natural that the Lashs should be at Chip Chop that day though curious that in his published description Lash fails to note that he, too, was at the tea and in the snapshots. Joseph and Eleanor were among the founders of Americans for Democratic Action, and he would go on to write the biographies Eleanor and Franklin (1971) and Eleanor, The Years Alone (1972); Eleanor had also recommended Trude for her job leading the Citizens' Committee for Children of New York, an organization that Roosevelt founded along with, among others, Adele Levy, the daughter of philanthropist Julius Rosenwald.
The Nancy that Lash identifies as having taken the snapshot was Nancy Hamilton, an actress and writer and Cornell's longtime romantic partner (though described in print by Lash as Cornell's "manager and close friend"). Cornell and McClintic had what has since become known as a "lavender marriage," an arrangement that allowed people to remain in the closet in an era when being publicly identified as gay or lesbian could result in disastrous legal, social, and professional consequences. Cornell met Helen in 1939, and she and Hamilton quickly struck up a close friendship with her; they remained extremely close until Keller's death in 1968. Hamilton directed Helen Keller in Her Story, which won an Academy Award for Best Documentary Film in 1955.
Biographies of Keller reveal that these kinds of gatherings were frequent in her life; she had an intense interest in the world and wide-ranging political, intellectual, and artistic interests. In The Radical Lives of Helen Keller, Kim Nielsen quotes Helen as writing, "After the intellectual hunger I have often felt since Teacher's going it is a priceless blessing to have such friends pour manna into my desert places."
Note: Ellen Noonan is director of the Archives and Public History program at NYU.