06/12/2014
"Many persons have the wrong idea of what constitutes true happiness. It is not attained through self-gratification but through fidelity to a worthy purpose."
- Helen Keller
In 1964 Helen Keller was awarded the Presidential Medal of Freedom by President Lyndon B. Johnson. Next week—on Tuesday June 17th—the American Foundation for the Blind (AFB) will hold its annual Helen Keller Achievement Awards honoring those who continue Keller's extraordinary efforts to improve the lives of those with vision loss. Please support AFB and Keller's legacy by participating in our online silent auction.
What follows is a scan of a telegram sent by President Johnson to Helen Keller: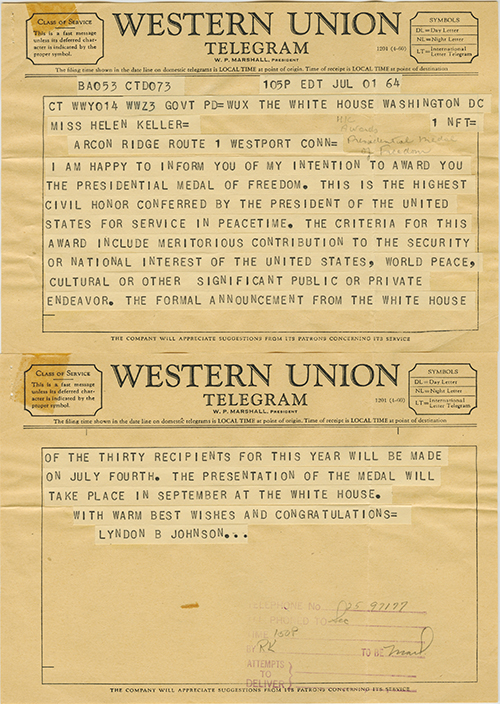 Image: Western Union Telegrams from President Lyndon B. Johnson to Helen Keller, 1964. Courtesy Helen Keller Archives, American Foundation for the Blind.
Transcript of President Lyndon Johnson's Telegram to Helen Keller
"JUL 01 64
THE WHITE HOUSE WASHINGTON DC
MISS HELEN KELLER=
ARCON [sic.] RIDGE ROUTE 1 WESTPORT CONN=
I AM HAPPY TO INFORM YOU OF MY INTENTION TO AWARD YOU THE PRESIDENTIAL MEDAL OF FREEDOM. THIS IS THE HIGHEST CIVIL HONOR CONFERRED BY THE PRESIDENT OF THE UNITED STATES FOR SERVICE IN PEACETIME. THE CRITERIA FOR THIS AWARD INCLUDE MERITORIOUS CONTRIBUTION TO THE SECURITY OR NATIONAL INTEREST OF THE UNITED STATES, WORLD PEACE, CULTURAL OR OTHER SIGNIFICANT PUBLIC OR PRIVATE ENDEAVOR. THE FORMAL ANNOUNCEMENT FROM THE WHITE HOUSE OF THE THIRTY RECIPIENTS FOR THIS YEAR WILL BE MADE ON JULY FOURTH. THE PRESENTATION OF THE MEDAL WILL TAKE PLACE IN SEPTEMBER AT THE WHITE HOUSE. WITH WARM BEST WISHES AND CONGRATULATIONS= LYNDON B. JOHNSON..."