01/20/2021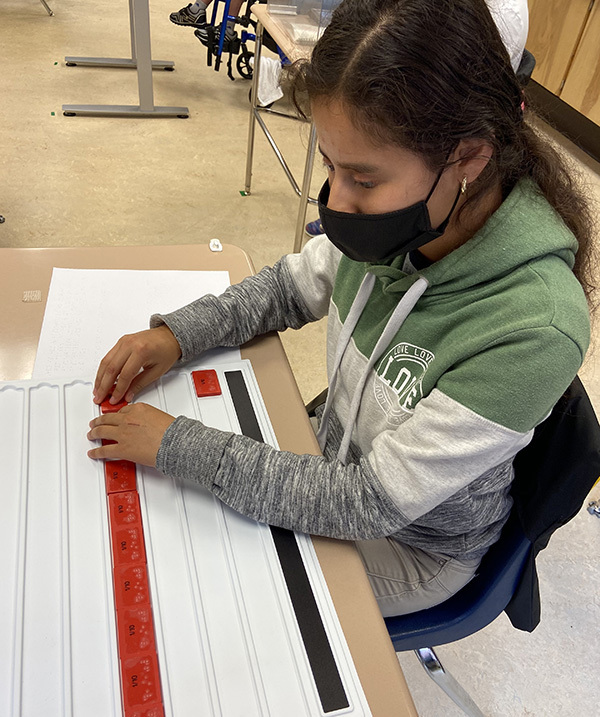 The other night I was watching the local NBC affiliate's news in Tucson, where I live. A veteran fourth-grade teacher has been teaching online this year. Each morning when she enters her classroom, she is greeted by empty chairs and doesn't see her students until she logs in to Zoom. She does not like those empty chairs greeting her! One of her student's parents put an end to those empty chairs by creating life size cutouts of each student and putting them in the chairs. Those pictures sure made a difference for the teacher!
We all know that pictures speak to people as they tell a story. And that's what we want to do with your photos. We are telling the story of how COVID-19 has been impacting education for our students with visual impairments, including those with additional disabilities and deafblindness, during the 2020-2021 school year. We are currently writing a report that shares the experiences of over 700 individuals in November 2020. We made a similar request for photos when we put together the report for our first Access and Engagement study that tells the story of the impact of COVID-19 in spring 2020 as the pandemic began. Just take a look at the cover, which is jammed packed with photos. The four photos on the cover catch your attention and they draw you in to learn about the experiences of these and other children.
In our second report, we want to show children, families, and professionals engaged in education this school year – in person, online, hybrid, homeschooled or any other way they are learning. Will you help us by sharing your photos? To help represent real people with disabilities in real-world settings, send your pictures, along with our photo release form (linked below), to our Community Engagement Team. Our target date for families, students, and professionals is March 19, though we will gladly take submissions beyond that date.
All photographers will be entered into a drawing for a $25 Amazon gift card. The winner will be notified on March 19, 2021.
Please note that we cannot use your photos, no matter how fantastic they may be, unless you sign and send a photo release form for every person in your submission.
Additionally, we are committed to making all visual media accessible to those with vision loss, so please indicate a preference to how image subjects are described. For example, "An elementary-age blind boy who is White" or "An Asian woman with graying hair wearing glasses." Though we may lightly edit the wording for consistency, we will make every effort to reference gender, age, ethnicity, and visual status using the terms you provide.
Photo release forms:
AFB Photo Release Form 1-27-21(Word)
Formulario de Autorización de AFB (Word)

Note: If you'd like to discuss photo ideas please feel free to email Dr. L. Penny Rosenblum, Director of Research. Dr. Rosenblum is the lead author on both the Flatten Inaccessibility and Access and Engagement reports.