11/10/2014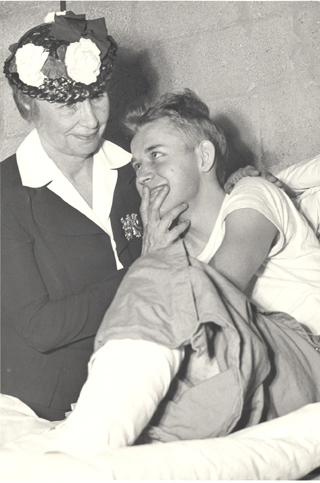 In honor of Veterans Day, the American Foundation for the Blind (AFB) is proud to reflect on the work of its most famous employee — Helen Keller. She joined the Foundation in 1924 and remained with us until she died in 1968. Keller was a vocal advocate for returning servicemen. On behalf of AFB, between 1942 and 1944, she supported Senator Robert Wagner's efforts to secure funding for the rehabilitation, special vocational training, placement, and supervision of blind persons, including those blinded in World War II. And between November 1944 and May 1946 she and her traveling companion Polly Thomson visited over 70 Army hospitals around the United States offering solace and hope to wounded soldiers.
On February 8th, 1945, Helen described her visits to her good friend Clare Heineman this way:
"...As Polly and I journeyed through Arkansas, Oklahoma, Texas, New Mexico, Colorado, Utah, California, Oregon and Washington we were kept high-strung by the miracles of rehabilitation we saw. Hospitals which would once have been places of heartbreak are today bright with a dynamic faith and the purpose it inspires. Wounded soldiers who a few years ago were thought doomed are regaining health, interest in living and self-confidence to reshape their future. Surgeons, physicians, educators and scientists are striving towards an unprecedented goal — restoring multitudes of injured servicemen to normal society and usefulness in a measure that has never been done in the history of the world. "
Helen made an indelible impression on everybody she met. In December 1944, a colonel in the U.S. Medical Corps wrote this to Helen from a military hospital:
"You have no idea the effect your visit to the gymnasium made. A number of the double amputees, after seeing and hearing Helen, remarked, "We have no worries now." The impression that Helen gave that she was the one who was gaining strength and comfort by visiting with the patients made a profound impression on all of us. She is truly an inspiring character and will go down in history along with Joan of Ark, Florence Nightingale, and her position will be No. 1."

—Robert M. Hardaway, Colonel, Medical Corps, Commanding. Bushnell General Hospital, Brigham City, Utah, December 21, 1944
In 1945, the American Foundation for the Blind, under the leadership of its President and CEO, M. C. Migel responded to requests by the Veterans Administration to help set up its rehabilitation program for blinded soldiers. Migel gave $10,000 in seed money, and the Blinded Veterans Association was established.
Continuing in the footsteps of Helen Keller, the American Foundation for the Blind remains committed to assisting our nation's veterans coping with vision loss.
Image: Helen Keller with a young injured soldier in a United States Armed Forces Hospital during World War II. She "listens" to what he is saying by placing her fingers on his lips.
All materials are from the Helen Keller Archival Collection at the American Foundation for the Blind, www.afb.org.
Recommended Links
Sign up for e-mail alerts from AFB whenever new content is added to the site, for the interest categories of your choice.