05/28/2021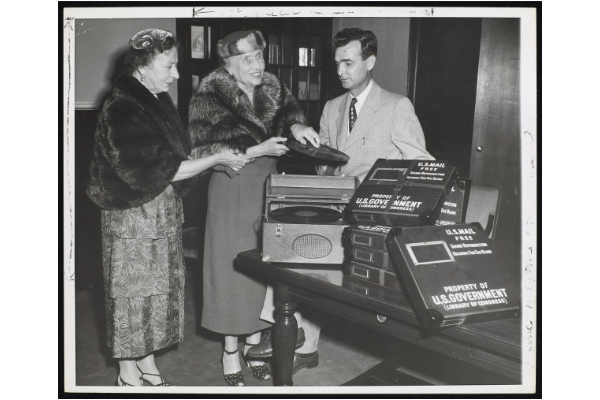 In 2015, AFB won the first of two major grants from the National Endowment for the Humanities to begin digitizing Helen Keller's massive collection of correspondence, photographs, and other papers under the guidance of archivist Helen Selsdon. Five years later, the digital Helen Keller Archive is the most accessible online archive around, made publicly available in time for the centennial celebration this autumn of the founding of AFB.
As a disability historian working down the road at New York University, I visited the AFB offices near Penn Station on and off for over a decade to read Keller's physical manuscripts before they were digitized. In a previous post for this blog series, I discussed Keller's involvement in the development of Talking Books at AFB for blind aural readers in the 1930s.
In today's post, I offer a listening tour of several highlights from the AFB's Talking Book Archives, which I recently digitized with funding from the National Science Foundation, research assistance from blind activist Shafeka Hashash, and much support from Selsdon.
Robert Irwin, the first director of AFB, collaborated with engineers at RCA (Radio Corporation of America) to create a long-playing record (or LP) that could store more narration than contemporary commercial disks, which only ran for 10 or 11 minutes. In imagining the sound design of the first Talking Books, Irwin took inspiration from popular records that combined spoken word with sound effects, such as a dramatic reading of Edgar Allen Poe's "The Raven" accompanied by orchestral music. (Transcripts for all audio snippets are available here.)
The AFB followed this model into the 1940s. One example from the AFB Talking Book studio is a 1944 recording of Alfred Lord Tennyson's poem "Enoch Arden", with background music by Richard Strauss.
The AFB recruited many celebrity narrators to record Talking Books, such as Eva Le Gallienne—Broadway and repertory actor, and glamorous Greenwich Village lesbian—who recorded several stories by Oscar Wilde. One, "The Birthday of the Infanta," is a disability myth of sorts, telling the story of a dwarf performer treated with cruelty by the King of Spain.
Other Talking Books re-staged plays for the medium of the phonograph, with a full cast of narrators brought into the AFB studio, such as this 1954 version of Henrik Ibsen's Hedda Gabler.
Some authors read their own publications, and they often included messages for their blind readers. As I mentioned in my 2015 post, Thomas Mann recorded a unique preface for the Talking Book version of Buddenbrooks, explaining the fit between his novel and the audiobook format: "An epic is for the ear more than for the eye. In early times it was said and sung, it was listened to—and, as a matter of fact, this book too was listened to before it was looked at, when the young author read it aloud as he wrote it, to relatives and friends." Buddenbrooks has now been digitized, and you can listen to the preface here.
The American Foundation for the Blind also created its own unique material for the Talking Book format, such as a tour of their Talking Book factory.
As Talking Books became more widely-known, outside agencies produced their own recordings for the AFB. In 1946, The American Iron and Steel Institute made "an educational record for blind children" to explain the process of steelmaking. "Recorded in the steel mills themselves, this disc captures sounds of all volumes and descriptions from the hiss of molten metal as it fills the ladle to the thunder of the rolling mills."
In many cases, the AFB stretched the concept of the Talking Book far beyond the basic formulation of "aural literature." For instance, they produced a highly popular set of "bird records" in collaboration with the Cornell ornithology lab in 1937, which they called "sound picture-books."
The AFB also developed several popular aural training courses: among them, one for learning Spanish, another for learning radio codes. AFB sound engineers imagined that Talking Books might serve as research and testing tools as well as entertainment or instructional media. They created, for instance, several "Auditory Projective Tests"—aural Thematic Apperception Tests—for assessing the personalities of blind people. I've spoken about these auditory projective tests at length in an episode of the Phantom Power podcast.
In 1938, the AFB sponsored a recording of Walt Disney's Snow White and the Seven Dwarves, which they widely advertised as the first conversion of a Talking Picture into a Talking Book. The recording combined dialogue and music from the film soundtrack with narration by George Kean, who described the animated scenes and even attempted to create verbal analogies for each character's musical theme. This recording is an early example of audio description, a strategy for making artwork and moving images accessible to blind people by converting images into verbal or textual form.
Finally, the Talking Book archives also contain recordings of Helen Keller reading aloud. As Berkeley professor and blind author Georgina Kleege noted in her own blog post for this series, Keller's recordings are some of the items she is most excited to have digitized and publicly accessible. Keller was ambivalent about her voice training process, and about her own voice, but as Kleege points out "she made the most of nonverbal elements—intonation and pitch—to make herself understandable," as in the following recitation of the 23rd Psalm.
Happy 100th birthday, AFB! Thank you for all you have given us.
---
Digital audio credits: American Foundation for the Blind, Mara Mills NSF Award #1354297.